Looking to participate in the exciting sport of yacht racing, without the hassle of owning a full-sized yacht?
No problem! Come join our DragonForce 65 sailing fleet!
Want to sign-up or learn more? Ask Away!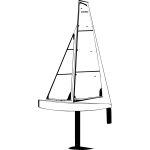 The boats in the fleet are all DragonForce 65.
All the fun, in only a 65cm long boat. (that's 2′-2
½
" before you Google it)
And there's are no motors, it's all wind here!
You can currently order the the boat kit here:
Use coupon code: BPYC10%
And your choice of controller, here are a couple:
We have partnered with Chicago Yacht Club for their Spring Frostbite Series.
Saturdays, March 27 – May 8 at 2:30pm at Belmont Harbor.
Come by and watch, or bring your boat and register here:
Sure, it's empty now, but check back soon!
January

2022

Mon
Tue
Wed
Thu
Fri
Sat
Sun