Looking to participate in the exciting sport of yacht racing, without the hassle of owning a full-sized yacht?
No problem! Come join our DragonForce 65 sailing fleet!
Want to sign-up or learn more? Ask Away!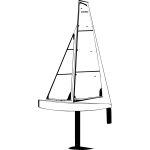 The boats in the fleet are all DragonForce 65.
All the fun, in only a 65cm long boat. (that's 2′-2
½
" before you Google it)
And there's are no motors, it's all wind here!
You can currently order the complete boat kit here:
Use coupon code: BPYC10%
or you can order separately with your choice of controller:
Summer Shot Glass Tuesday Nights @ 6pm in front of Burnham Park Yacht Club
If you don't have a boat yet, order one above! Please let us know if you are planning to get one and we'll schedule a build day at the club. They're much easier to put together with some built examples! Even if you have your together, we'll plan a tuning day!
Sure, it's empty now, but check back soon!
September

2023

Mon
Tue
Wed
Thu
Fri
Sat
Sun